City University – Cass Business School
Background
Sir John Cass Business School is an integral part of City University London. It is ranked amongst the best business schools and programmes in the world with a 40-year reputation for excellence in research and business education. As such, it has attracted an exclusive Cass network of notable academics, students and businesses worldwide. It specialises in serving the needs of professionals and companies through management education,  stimulating research and debate on key issues facing international business and finance.
Brief:
To create a monument that credited all of the beneficiaries who contributed to the educational business careers of generations.
To install a donor wall that recognised all of the generous sponsors including the late Christopher Reeves, Stelios: founder of Easyjet and Sir John Cass' foundation, the founder of CASS and of whom the university was named after.
We were commissioned to design a display board that recorded and honoured of all the beneficiaries since the establishment of City University.
To produce a board that looked both traditional yet modern.
The capacity for updating names or boards regularly, was a prerequisite of Cass.
The display needed to blend in with the rest of the glass panels of the university.
Initial Concept
Initially the concept was an illustrative timeline of monumental historical events regarding CASS Business School and a list of their donors. Eventually it evolved without the graphical chronology of the institution, accounting for the beneficiaries only. The spec was originally 3 vertical, illuminated glass panels that spanned from the floor to the ceiling. However, the installation was reduced in height to accommodate the names of sponsors being updated efficiently. The construction evolved to adjacent translucent panels that provided greater luminosity in between.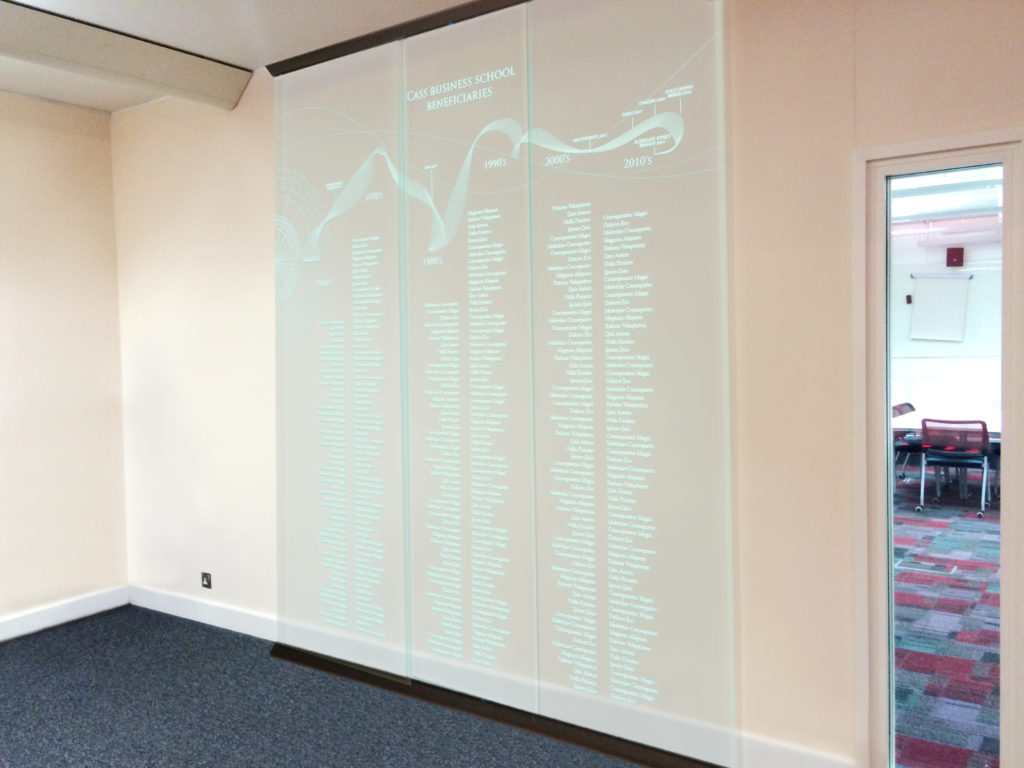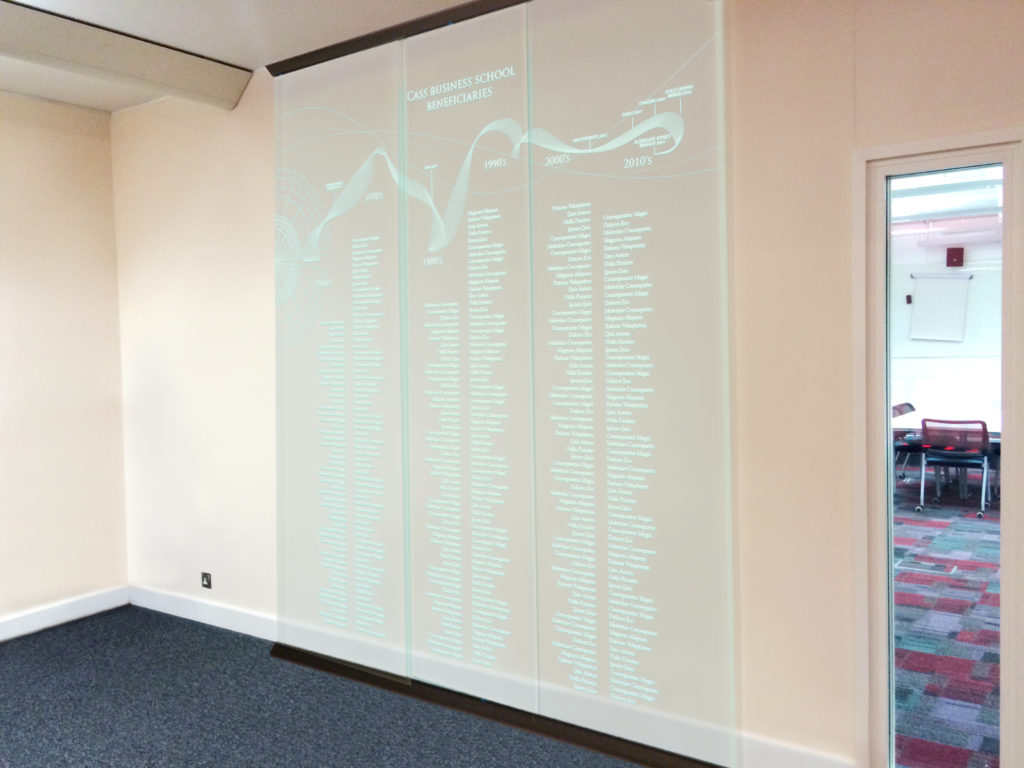 Solution
We used an illuminated donor board with reinforced glass to ensure durability and safety.
An elegant monolith was erected at the bottom of a winding stairwell in the reception area of the university that hosts regular gatherings and events.
A traditional 'old style' serif font was used to represent tradition. Due to the greater contrast between thick and thin typography strokes, the font was made more legible with a sharper and more refined appearance.
The names were vertically aligned randomly, to create a flow from one decade to the next.
The font was also middle aligned to create an elegant and contemporary look.
Names were kept updated via an easily printed vinyl, illuminated by back lit glass with a hidden panel of energy saving lights.
The lights were controlled by a timer to ensure that they were not lit throughout the night.
The Vinyl was printed with a pale green tinge to enhance contrast and create the effect of traditional glass caused by iron, which absorbs red and blue light.
The end result was a donor wall that fits well with the glass surroundings of the City university building, yet also stands out due to its illumination. It's a beautiful, elegant focal point for students and visitors alike.