May 16th, 2012
Manoeuvring around a website is defined as user navigation and is important in the success of how a site is accessed and utilised. It provides a gateway to different content sections and is largely dependent on the effectiveness of its design. We can learn a lot from market research and various studies that inform us of the most effective website layouts that guide the end user to making informed choices. Eye tracking is a successful method that studies retinal movements regarding visual stimuli such as videos, images or other graphic design elements. Our brain processes information via our senses. In particular, the optical perception of audiences is targeted, as many eye tracking surveys have been conducted whilst surfing the web. When designing a website's user navigation efficiently, it's advantageous to apply this knowledge and enhance your chances of attracting the attention of users.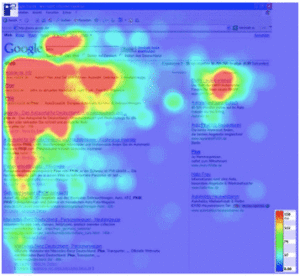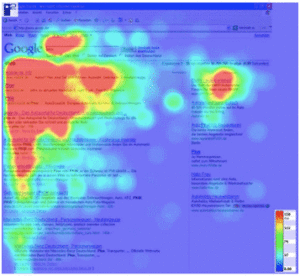 Picture: blogstorm.co.uk
The most common location for a logo is in the top left hand corner, whilst the call to action bar is in the upper navigation panel. This is where users eyes naturally gravitate towards and they should not have to scroll down further for valuable information. Many languages are written from left to right, therefore our eye movements often emulate this reading pattern. Consistency throughout a website relating to type, colours and style, is another guiding principle that should be maintained. The navigation bar should be in the same position on every page, so as not to confuse users. Following this, eye tracking studies indicate that our attention shifts to the centre of the page and then migrates towards the call to action button. This visual path should influence the positioning and type of content chosen for your website, particularly regarding the 'hero' shot. This refers to the image that is centred, or to the left of the page and used to grab the attention of users most of all. For ideas towards website navigation design patterns review;
http://sixrevisions.com/user-interface/navigation-design-patterns/
Additionally, ensure your site's navigation sections are labelled with obvious names, as vague titles frustrate users. Opt for more specific terms such as 'blogs' and 'services' instead of generic, obscure button indicators like 'tools' and 'resources'. Also keep your navigation path simplified as excessive sections overwhelm the user with choices. This can be avoided via breaking them down in to sub sections and minimising your navigation bars to less than three. Once you click in to a page or section, the button should change colour to show visitors which page they are on.
Navigation can be categorised in three terms:-local, global and contextual. Links for local navigation allow users to move through a major section to view its different topics. Also known as category links, they are usually located in a navigation bar on the left side of the web pages. Global navigation links enable visitors to navigate to the major sections on every page and are found in upper navigation panels or side menus and can also be situated at the bottom. Contextual navigation links are specifically related to items in the body content of your website page and appear in the functional window of any active widget on your page.
Therefore, web navigation is not only the means of manoeuvring around an online site but also a tool for engaging your visitors. The positioning of navigation bars and call to action buttons is crucial in impacting your audience and allaying confusion for users. Eye tracking studies indicate that the eyes focus on images that have hero shots with captions, prompting users to remember them more. Articles that have more organised, punctuated and well presented material, assists visitors to process information easier. Ensure your website is as user friendly as possible so that your navigation designs direct the eye, decreasing the visual effort required by users. Our brains are wired to be attentive towards human faces. Instinctively, this is what most users would notice first if a face was present on your web page. Use power words, colour contrast and font size to make your navigation panels and content stand out. Most importantly, present your navigation bars, key information and offers in the centre or upper left corner of your web page for instant conspicuity. As such, web navigation becomes the art and science of guiding the course of users browsing through your website.
Article written by Christina Georgiou